Fishing is a year-round activity here at Los Sueños and there really isn't a bad time of year to come fish with us. We offer a range of Sport fishing trips to suit every blue water angling style and taste. Our charter boats are located in the beautiful Los Sueños Marina and we offer both inshore and offshore full day and half day sport fishing charters.
Our fishing year is basically divided into two different seasons, Dry Season and Green Season. Our fishing styles vary depending on these seasons but there is no shortage of fish during either season. The dry season generally begins at the beginning of December and runs through the end of April. Our full day trips at this time of year are usually focused on big Sailfish, Marlin and other pelagic's. Billfish are the target species of most visiting anglers to Costa Rica and they are seldom disappointed at this time of year although Sailfish and Marlin are caught and released throughout the year.
The green season runs from May to November and our full day trips come with the option of running offshore and targeting Marlin, Sailfish and Dorado or chasing Rooster-fish, Cubera Snapper and other inshore species in and around the rocky islands of the Gulf of Nicoya.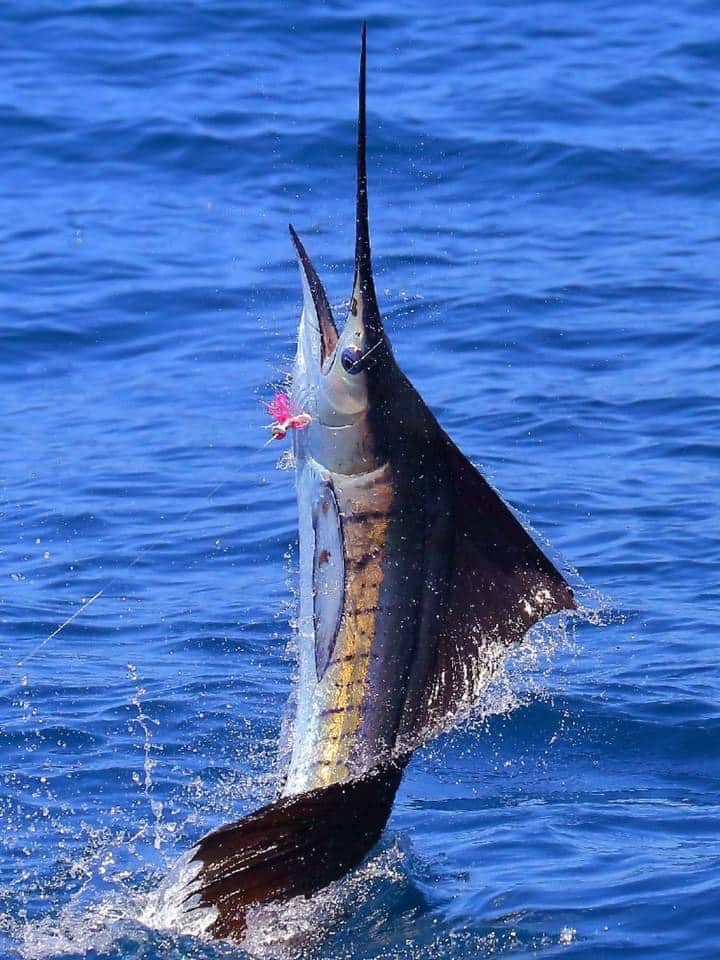 On full day trips our day begins with a run offshore to record class blue water to target Pacific Sailfish, Marlin, Yellowfin Tuna and Mahi Mahi. We usually use bait and switch techniques by trolling artificial teasers, dead baits, stick-baits and lures.
Alternatively, we can cast poppers to schools of Tuna or Mahi Mahi on "floaters" or FADS. Many of our techniques target a variety of species at once and will often result in double hook-ups.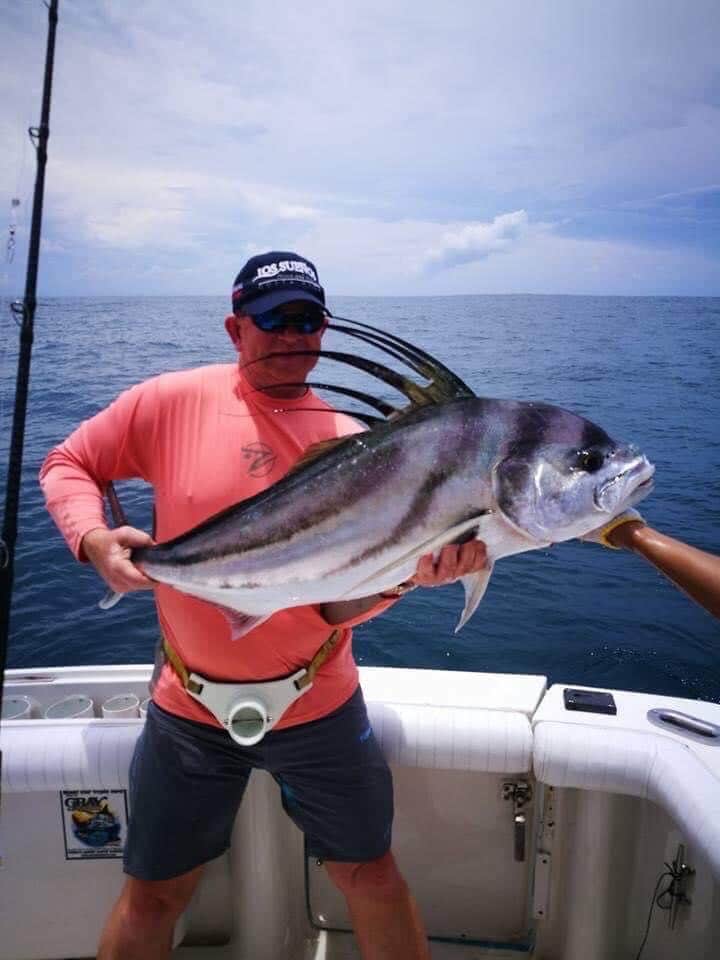 Costa Rica offers some of the best inshore sport fishing in the world. Along the Central Pacific coast from Cabo Blanco to Quepos the inshore fishing is mainly around rocky islands, headlands, reefs, river mouths and estuaries, offering very diverse inshore fishing grounds. The main target of these trips is typically Cubera Snapper, Grouper, Rooster-fish and an assortment of other Snappers, Jacks and Mackerel. While slowly working these rocky shorelines we are simultaneously slow-trolling live baits, casting poppers and dropping jigs.
Due to the short duration and limited range during inshore days we do not actively target Billfish. That is not to say they are not caught during half day trips but, they are an infrequent catch therefore if you desire to catch a Sailfish or Marlin we ask that you please consider a full day offshore trip.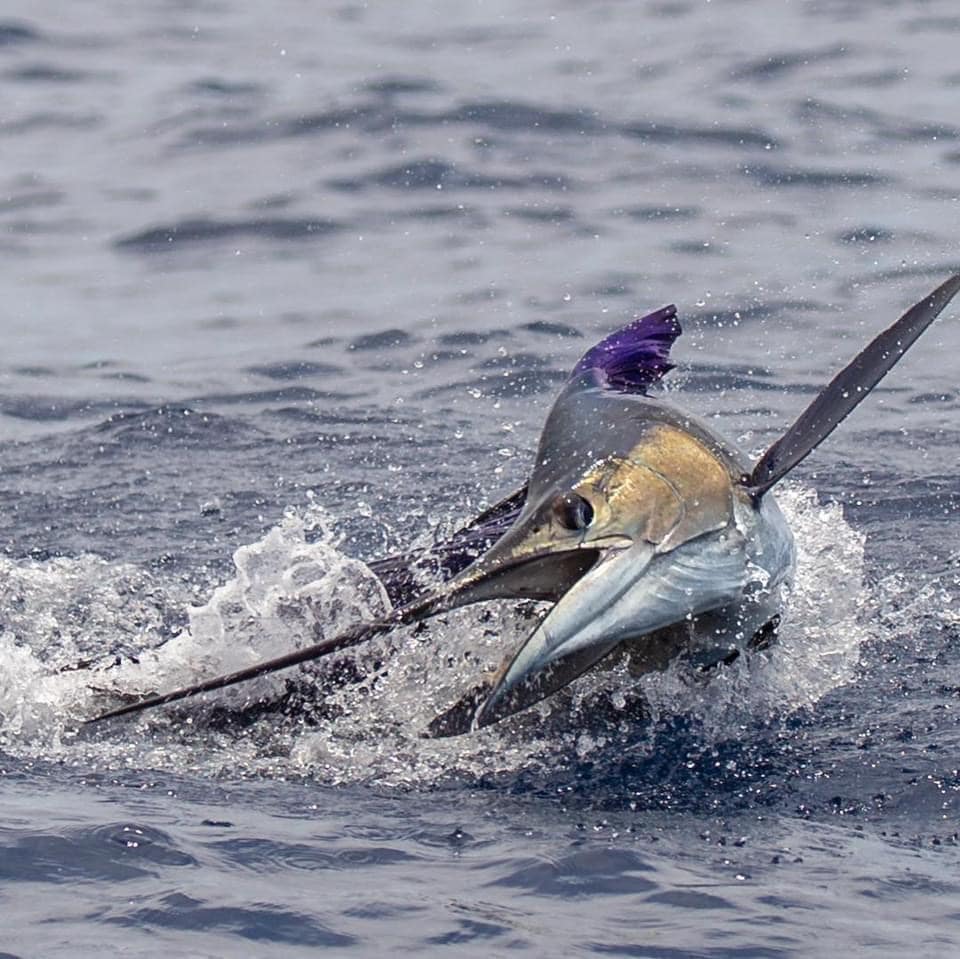 We use circle hooks when fishing dead or live baits for Billfish and other game-fish species. We release all Billfish and Rooster fish revived and alive per Costa Rica conservation laws. The fact of the matter is, that when circle hooks are properly fished, hook-up ratios and post release survival rates of fish increase dramatically. The most difficult aspect of fishing circle hooks is teaching new users the intricacies of getting a good hook set. We are more than willing to teach you how to effectively fish circle hooks for Billfish and inshore species utilizing both live and dead bait. We do not remove Billfish or Roosterfish from the water. You may see an occasional old photo on our website, but we no longer practice this.
The option of bringing home a Mahi Mahi, Tuna or Snapper or other sport fish for the table is up to the fishermen but we would recommend not over harvesting if the bite is "wide open".